How Will The Man Transfer His Animals Across The River?
By

Ajilatosin

• January 22, 2019, 05 AM • 156 • 11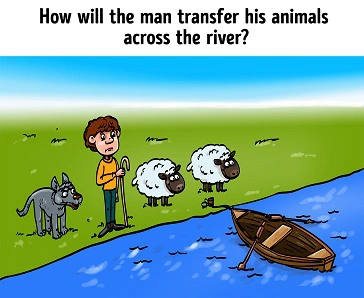 There is a man traveling with his 2 sheep and a wolf. The wolf would gladly attack the sheep if the man were to ever leave it alone with them. At some point, the man reaches a river that he needs to cross. He finds a boat nearby but can only take one of his animals at a time. Remember that the wolf will eat the sheep if the man leaves them all alone.
This looks tricky? Please share your answers in the comments section. I will post answers if no one get's it right. Let's go!
Related Post viewed by other
11 Replies | Last update January 31, 2019, 06 AM |
Last comment Mcoropo30



CMD:

He should go with the wolf to the other side first, then come back and take one sheep to that side. Take the wolf back to the starting point. Take the other sheep to the other side where he already left one sheep. Then go back and take the wolf and continue on their journey. 

I support this





CMD:

He should go with the wolf to the other side first, then come back and take one sheep to that side. Take the wolf back to the starting point. Take the other sheep to the other side where he already left one sheep. Then go back and take the wolf and continue on their journey. 

This is correct