"JEALOUS MEN SHOULD NOT MARRY BEAUTIFUL WOMEN" – COMEDIAN OKEY BAKASSI
By

alwellno

• February 11, 2019, 06 AM • 43 • 5
Popular Nigerian comedian, Okey Onyegbule known as Okey Bakassi is making his way to becoming on of the public speakers on issues of relationships.
In a recent interview, he shared advice to men on the kind of woman they should marry.
Speaking on women and men having equal rights, he stated that men who want a woman who will serve and worship them should not marry educated women and stick to illiterates whom will welcome the idea of service in marriage.
"If you don't believe that man and woman are equal and have equal rights, don't bother about marriage. If you are looking for a woman to worship and serve you, don't marry an educated woman." He said.
He added that men who are very jealosu should not bother marrying beautiful women. He said: "If you are insecure and too jealous, don't marry a beautiful woman."
He however sealed his words of wisdom with the idea that men who are looking for a premium relationship with a suitable spouse can go for beautiful and well-educated women.
He said: "If you are looking for a beautiful woman who will give and raise beautiful children with you, take you to the next level, support you in times of needs, then marry a beautiful woman who is hardworking and educated, and has a mind of her own. If you don't have the right tools and the right skills set to sustain a marriage, you can learn. But no carry person daughter punish am o."
This is not the first time Bakassi will dish out relationship advise. Once he talked about how having relationships before marriage is a way to get experience for the future.
Watch below;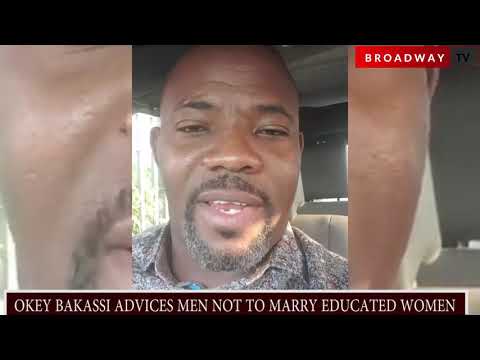 Related Post viewed by other
5 Replies | Last update February 11, 2019, 06 PM |
Last comment Martinsorlaade